plasma-wallpaper-dreamdesktop 0.3.0-2
http://www.jarzebski.pl/projekty/dreamdesktop.html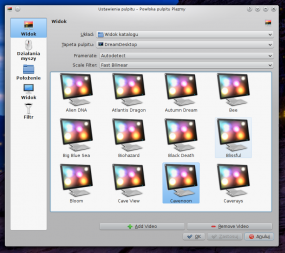 An innovative animated desktop wallpaper for KDE

Category: system

Submitter:
Maintainer: pico89
Votes: 8
License: GPL
Last Updated: 2013/03/08 - 20:54:33 +0000
First Submitted: 2012/11/18 - 19:42:54 +0000
Dependencies

ffmpeg

 

kdelibs

 



Update!
Thanks abveritas, you were right, now should be ok!



Did you copy that from an Arch solution?  There is no move for qt to qt4 in Chakra.  
Just remove the line:
-DQT_QMAKE_EXECUTABLE=qmake-qt4
Then there is no issue to find qmake, the above line is needed hack in Arch only.



I had some problem to compile it, to solve them I had to add a symlink in /usr/bin of the "qmake" file call "qmake-qt4". If you have problem try this way.
If anyone knows a better solution, let me know.