handbrake 1.3.3-1
https://handbrake.fr/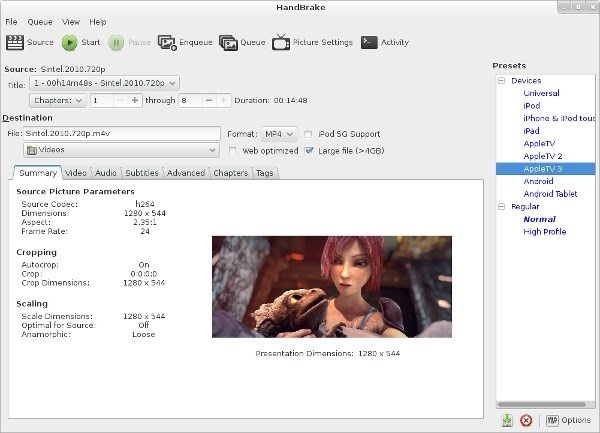 Multithreaded video transcoder

Category: multimedia

Submitter: FranzMari
Maintainer: FranzMari
Votes: 4
License: GPL
Last Updated: 2020/06/15 - 06:35:45 +0000
First Submitted: 2015/02/10 - 00:09:36 +0000
Dependencies

bzip2

 

dbus-glib

 

desktop-file-utils

 

gcc-libs

 

gst-plugins-base

 

gtk3

 

hicolor-icon-theme

 

jansson

 

lame

 

libass

 

libgudev

 

libnotify

 

librsvg

 

libsamplerate

 

libtheora

 

libvorbis

 

libx264

 

libxml2

 

opus

 

zlib

 



Please update newer version. This PKGBUILD works fine for me.

http://pastebin.com/pA7KCki5



I hope that this can help to let Handbrake works with x264 lib (10bit).

https://forum.handbrake.fr/viewtopic.ph … p;p=158332





Durante l' installazione viene richiesto di sostituire il pacchetto x264 con x264-8bit.
E' sicuro farlo ???




Would it be possible to provide a x264-8bit package that can be installed in parallel to x264? There are certain programs like VLC that become unable to decode h264 videos after installing x264-8bit.



version has changed >> 0.10.2



@ahjolinna
x264-8bit is needed because Handbrake doesn't support 10 bit.
Deps are ok



these should be the the most important dependencies: bzip2 cairo dbus-glib gcc-libs gdk-pixbuf2 glib2 gst-plugins-base gstreamer gtk3 lame libass libbluray libdvdnav libdvdread libnotify libsamplerate libtheora libvorbis pango systemd zlib



why is x264-8bit needed?